Company Profile
Tetra Tech combines the resources of a global, multi-billion-dollar corporation with a localized, client-centric approach across over 550 sites globally. Our standing is built on the technical proficiency and commitment of our workforce – 27,000 team members collaborating to deliver intelligent and adaptable solutions for demanding projects. We take pride in housing top technical specialists in fields such as water, environment, infrastructure, resource management, energy, and international development.
Job Description
SCOPE OF WORK
Project Name: West Africa Biodiversity and Low Emission Development (WABiLED)
Task Order No.: 7200AA18D00003/72062421F00005
Consultant Name: TBD
Consultant Supervisor: Low Emissions Development Strategies (LEDS) Lead
Consultancy Assignment: Provision of Technical Assistance (TA) support on branding and marketing, and the development of a market entry strategy and implementation plan for Liberia Pure Honey (LPH)
Background
The West Africa Biodiversity and Low Emissions Development Activity (WABiLED) is a four-year initiative funded by the United States Agency for International Development (USAID) aimed at tackling biodiversity and environmental issues in the West African region. WABiLED's overarching objective is to promote the conservation of biodiversity and the development of climate-resilient, low emissions strategies in West Africa. The program's core purpose is to strengthen partnerships, as well as national and regional networks and institutions, to enforce and prosecute wildlife trafficking laws, enhance regional and cross-border collaboration in conservation strategies, which include working with private sector partners, and integrate best practices for sustainable natural resource management. It also seeks to enhance the capacity for economic planning and the development of Low Emissions Development (LED) strategies, including initiatives like Reducing Emissions from Deforestation and Forest Degradation, sustainable forest management, and the conservation and enhancement of forest carbon stocks (REDD+).
All of WABiLED's efforts are geared towards achieving three primary objectives:
Objective 1: Supporting the fight against wildlife trafficking (CWT) and the conservation of great apes through improved regional coordination and the implementation of national and regional policies, laws, and regulations.
Objective 2: Reducing deforestation, forest degradation, and the loss of biodiversity in crucial forested areas through technical support and knowledge management.
Objective 3: Reducing greenhouse gas emissions and increasing carbon capture through forestry and land use.
Tetra Tech is the main implementer of ( West Africa Biodiversity and Low Emissions Development) WABiLED, in partnership with a consortium of international organizations, including Dalberg, Born Free USA, Winrock International, re: Wild, and TRAFFIC.
To address Objective 3, WABiLED collaborates with governments, non-governmental organizations, grantees, development partners, the private sector, and local communities in four priority transboundary forest landscapes. The aim is to decrease deforestation, reverse forest degradation, and mitigate biodiversity loss in the region. Result 3.3 of the program specifically focuses on "Enhanced responsible land-based private sector investment and innovation to develop and strengthen the value chains of non-timber forest products (NTFPs)." This initiative is intended to support reduced threats to ecosystem services, enhance climate resilience, and promote social equity. It identifies and strengthens investment opportunities in four key countries: Liberia, Sierra Leone, Cote d'Ivoire, and Guinea, all of which are member states of the Economic Community of West African States (ECOWAS) and also make up the four Member States of the Mano River Union (MRU) sub-region.
Recognizing the pressing need for biodiversity investments, WABiLED has initiated a three-phase project, supported by Dalberg, to assess the potential for private sector engagement and investment in the four focal countries in the MRU region.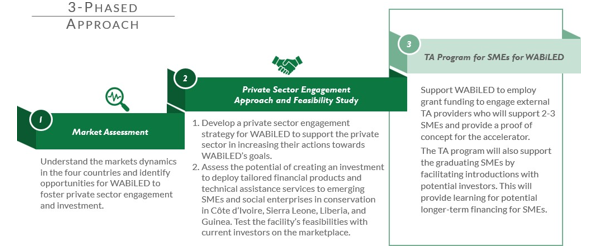 Rational for the Assignment
Previous stages of work demonstrated that technical assistance (TA) support plays a vital role in facilitating the investment flow towards small and medium-sized enterprises (SMEs) operating in the field of biodiversity conservation in the MRU sub-region. The initial phase entailed a comprehensive market assessment at a high level to gain an understanding of the environment for private sector involvement in biodiversity conservation. Subsequently, a more in-depth assessment was conducted to evaluate the practicality of developing and implementing strategies to support SMEs in this sector.
Figure 2: Objectives of the TA program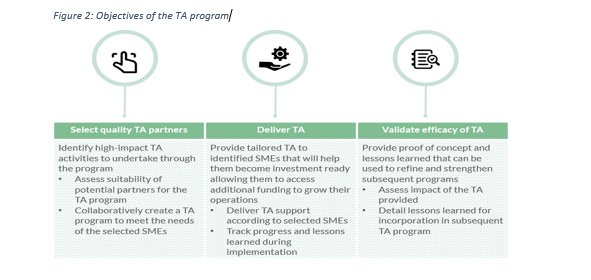 The previous phases of work focused on establishing an investment facility for biodiversity conservation. These stages were interconnected and have led to the current project, which aims to provide insights into the potential for an accelerator program. This accelerator program aims to create a pool of businesses that are well-prepared for investment opportunities.
This Technical Assistance (TA) initiative is under development to assist SMEs whose business models involve biodiversity conservation. The goal is to bring these businesses closer to the point where they are ready for investment. This marks the initial and crucial step in enhancing the capacity of SMEs in biodiversity conservation to attract funding from the private sector. If successful, it will serve as a compelling case for establishing a dedicated investment facility to support a broader range of businesses in the biodiversity conservation sector.
Objectives of the SOW
Liberia Pure Honey (LPH) is a small Fast Moving Consumer Goods (FMCG) company that operates in Liberia. It specializes in selling sustainably sourced honey from local farmers in the Liberian market and produces items like soaps and lip balms using honey and coconut oil, including oil from mature coconuts. The company has its sights set on exporting its honey-based products to neighboring West African markets such as Sierra Leone, Ghana, Cote d'Ivoire, and even the United States of America. However, LPH faces several challenges, which include:
Limited knowledge of how to effectively target customers within Liberia.
Insufficient capabilities to carry out effective branding and marketing campaigns to boost customer interest in key markets.
Limited understanding of effective strategies to reach customers in new markets.
A lack of knowledge on how to adapt products for various markets.
Limited information on the right distribution channels.
Limited understanding of how to navigate legal and regulatory obstacles and effectively manage associated risks.
The primary objective of this project is to equip LPH with the necessary tools and knowledge to effectively market their current and potential products and expand their customer base. It also aims to help LPH identify promising markets understand how to access these markets and overcome distribution challenges, particularly in West Africa and beyond. The Technical Assistance (TA) expert will implement a professional training program covering marketing, communications, branding, and market entry strategies for both the local (Liberia) and the specified international markets. They will also assist in developing an implementation plan for these strategies for LPH.
The specific objectives of this project are:
Close the skill gaps in marketing and branding within LPH's current team.
Define LPH's unique value proposition.
Develop a communications and branding plan with key messaging to attract and expand the customer base.
Develop a market entry strategy and an implementation plan to support LPH's expansion goals.
While some key activities are outlined in this document, the consultant will collaborate with LPH to tailor the technical assistance to meet the specific and agreed-upon needs of LPH. Additionally, the TA provider will offer training to the SME staff as agreed and assist in gathering data for the WABiLED Monitoring, Evaluation, and Learning (MEL) process.
Summary of TA Delivery Approach
Stage 1: Tripartite Agreement 
The Technical Assistance (TA) program will kick off with the establishment of a tripartite partnership agreement involving LPH, the TA consultant, and the WABiLED program. This agreement will outline the following key aspects: i) The specific services to be provided and the agreed-upon timelines. ii) Roles and responsibilities of the TA provider. iii) The roles and contributions of the WABiLED program. iv) The roles and commitments of LPH, including any contributions they will make.
Stage 2: Delivery of TA 
Upon signing the agreement, the consultant and LPH will collaborate to develop a Business Development Services (BDS) delivery plan. Throughout the TA delivery phase, the Consultant will provide technical assistance to LPH in three primary areas: i) Establishing a distinctive identity and cultivating a positive perception of its products among consumers. ii) Effectively promoting and selling its products through various channels and employing creative promotional strategies. iii) Furnishing support for market entry into West African and other international markets beyond the region. It's also possible to introduce additional categories if they fall within the TA cost and are accepted by all parties.
Stage 3: Monitoring, Evaluation, and Learning (MEL) 
Once the TA services are delivered in a manner acceptable to both WABiLED and LPH, WABiLED will continue to monitor LPH to evaluate the extent to which innovations have been adopted and to determine if further support is needed. The consultant will conduct baseline data collection at the outset of the TA program, and WABiLED will use this data to assess the effectiveness of the intervention, working in conjunction with Liberia Pure Honey's MEL team.
Activities/Tasks
The TA Service Provider (Expert) will have the responsibility of performing the following tasks:
Participate in an orientation conducted by the Dalberg and WABiLED team.
Collaborate with LPH to create a detailed TA delivery plan that outlines short- and medium-term objectives.
Evaluate the knowledge gaps within the LPH team, focusing on marketing, branding, and market entry, with an emphasis on international markets.
Identify potential target markets that will inform the branding and marketing strategy, as well as feasible international markets aligned with LPH's objectives and value proposition.
Develop a customized training curriculum and model/guide for branding, marketing, and market entry strategies, and provide training to LPH staff.
Craft a strategic marketing and branding plan tailored to Liberia Pure Honey.
Train the LPH team in various aspects of the marketing and branding strategic plan, including:

Identifying marketing and branding opportunities and risks.
Defining key messaging for the Liberia Pure Honey brand, highlighting its unique value proposition.
Implementing effective marketing and branding strategies for target markets and adjusting strategies for different markets.
Utilizing communication techniques across various platforms, such as Instagram, Twitter, Facebook, webpages, and editorial content.

Develop a customized market entry strategy and an implementation plan for LPH, focusing on the targeted markets. The market entry strategy will encompass:

Prioritization and categorization of key target markets by quick wins and longer-term goals.
Considerations specific to key target markets, including legal and regulatory challenges.
Strategies for market entry, potential distribution channels, and risk mitigation strategies.
An implementation plan with immediate next steps and actions for accessing markets. This component will serve as a clear guide for LPH as they navigate the process of entering new markets.

Provide a comprehensive report detailing the activities, outcomes, challenges, and lessons learned throughout the entire Technical Assistance Program (TAP) support provided to LPH.
Expected results.
The anticipated outcomes of the TA program are as follows:
Enhanced knowledge relevant to both local and international markets.
Empowered team members in branding and marketing techniques, leading to improved strategies for targeting and acquiring new customers in various markets and segments.
Improved key messaging and communication plans for the team.
Enhanced public-facing communication materials and marketing assets, including the website and social media presence.
Identification of potential markets for LPH in the short and medium term within West Africa and the United States of America, along with the establishment of practical next steps.
Enhanced knowledge of market entry strategies for specific markets among the LPH management team.
Improved understanding of legal and regulatory considerations, along with potential strategies for addressing them.
Technical Coordination
The TA Consultant will collaborate closely with the LEDS Lead and will report to them in consultation with the Chief of Party for the WABiLED program. Additionally, the consultant will work together with the WABiLED Deputy Chief of Party (DCOP) Operations on logistics and administrative issues.
Required Skills or Experience
The Expert should possess a minimum of three years of experience in eco-management and eco-tourism training, along with the following qualifications:
Demonstrated experience in successfully implementing or assisting SMEs in branding, marketing, and market entry strategies, preferably within the fast-moving consumer goods sector.
A comprehensive understanding of the West African consumer landscape, including knowledge of consumer trends, behaviors, attitudes, marketing channels, regulatory frameworks, and more.
Familiarity with a variety of market entry strategies suitable for West African markets, such as joint ventures, strategic partnerships, distribution networks, and e-commerce platforms.
Proficiency in assessing potential risks and challenges associated with different marketing and market entry approaches, including aspects like payment collection.
Knowledge of key trade fairs and business associations that can be leveraged to effectively market products.
A network of crucial contacts and partnerships within the West African and international business community, including local suppliers, distributors, and relevant industry associations to support effective product marketing.
Proficiency in essential skills, including excellent writing and communication abilities and advanced knowledge of MS Office.
A strong commitment to considering and incorporating gender, youth, and social inclusion (GYSI) principles into program activities.
Proficiency in the English language.
The capability to work autonomously.
JOB SUMMARY




Company
Tetra Tech AR…
Industry
International…
Category
Marketing
Location
Accra
Job Status
Fixed Term
Salary
GH¢
Education
Qualified
Experience
3 years
Job Expires
Nov 03, 2023
How To Apply
Mode of Application:
Tetra Tech is committed to diversity and gender equality in all its operations—in the US and overseas. We strive to reflect these goals in our global mission and in our workforce. We encourage applications from women and underrepresented ethnic, racial, and cultural groups. Tetra Tech is proud to be an Affirmative Action/Equal Opportunity Employer.