The Hungary Government (Stipendium Hungaricum) Scholarships 2024 is open to International Students. This scholarship supports Master's level programs in All Subjects taught at Hungary Universities. The deadline for the scholarship is OPEN.
The Hungarian Government offers fully funded scholarships for master's programs to international students annually. Stipendium Hungaricum scholarships are among the most prestigious in the European region. The primary goal is to support the internationalization and constant development of Hungarian higher education, strengthen international academic and research connections, and enhance the global reputation and competitiveness of Hungarian higher education worldwide. Established by the Hungarian Government in 2013, the program is overseen by the Ministry of Foreign Affairs and Trade and managed by the Tempus Public Foundation.
Related Article: MCW Young Leaders Fellowship in USA | Fully Funded | MCW Global Fellowship 2024
The scholarship is based on bilateral education agreements between Hungary and the governments of the sending countries. It is available on five continents in almost 90 countries and territories, attracting over 5000 international students each year. Applicants can choose from more than 600 full-degree programs covering all higher education fields and levels, including part-time and doctoral programs.
Notably, over 81% of scholarship holders express their satisfaction, indicating a high level of contentment with their experience in Hungary.
Related Article: High Commission of Hungary Scholarships 2024
Degree Level:
Hungary Government (Stipendium Hungaricum) Scholarships 2024 is available for Master's level programs at Hungary Universities.
Available Subjects:
All Subjects are available to study under this scholarship program.
Scholarship Benefits:
For Bachelor's, Master's, one-tier Master's, and non-degree programs:
Tuition-free education (exemption from tuition fees).
Monthly stipend of HUF 43,700 (approximately EUR 120) for living expenses, for 12 months a year until the completion of studies.
Accommodation contribution: Free dormitory place or a monthly contribution of HUF 40,000 to accommodation costs for the entire scholarship period.
Medical insurance according to Hungarian legislation and supplementary medical insurance.
For Doctoral level:
Monthly stipend of HUF 140,000 (approximately EUR 390) for the first phase (4 semesters) and HUF 180,000 (approximately EUR 500) for the second phase (4 semesters) until completion of studies.
Similar accommodation and medical insurance benefits as mentioned above.
Please note that these provisions are contributions to living expenses and may not fully cover all costs. Students are advised to check expected living expenses in Hungary and their chosen city before applying.
Related Article: Mcw young leaders fellowship interview questions
Eligible Nationalities:
International students from all countries are eligible to apply.
Click here to join our social media platforms for new updates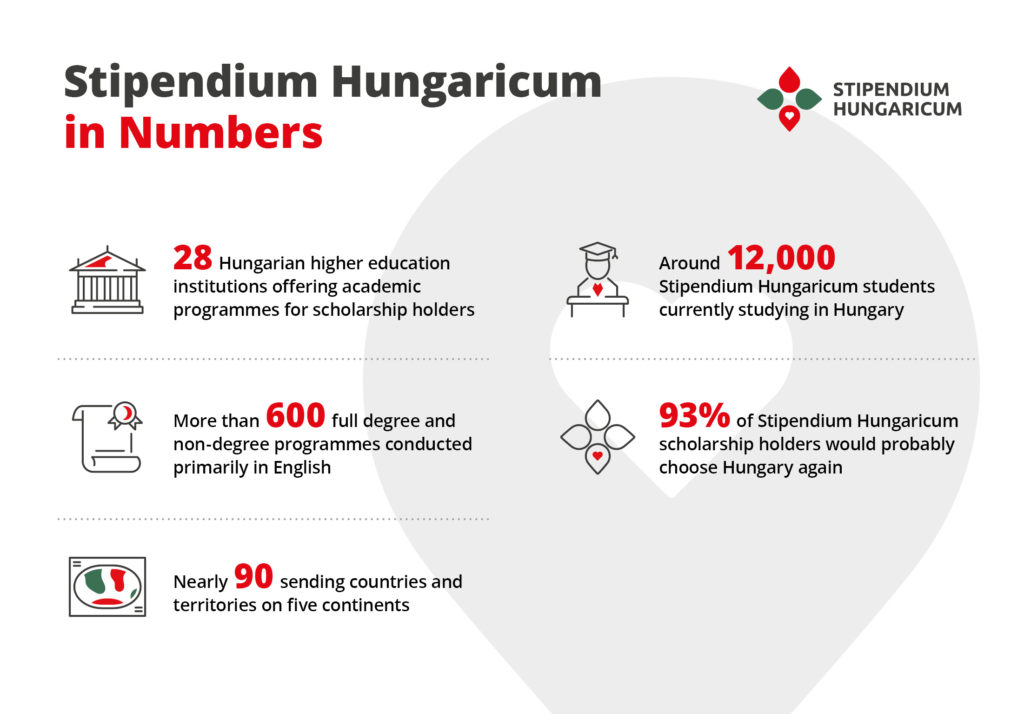 Website
To learn more about the Hungary Government (Stipendium Hungaricum) Scholarships 2024, kindly visit:
FAQs: Unveiling Clarity
What are the eligibility criteria for Stipendium Hungaricum? Embark on your academic journey by meeting the scholarship's eligibility criteria, ensuring a seamless application process.
How do I apply for the Hungarian Government (Stipendium Hungaricum) Scholarships 2024? Unlock the door to educational opportunities with a step-by-step guide on navigating the application process.
Can I choose any field of study under Stipendium Hungaricum? Delve into the diverse array of study fields available, tailoring your academic pursuits to align with your passions.
What cultural experiences can I expect while studying in Hungary? Immerse yourself in the rich cultural tapestry of Hungary, adding a unique dimension to your educational journey.
Are there success stories from past Stipendium Hungaricum recipients? Discover inspiring success stories, providing a glimpse into the transformative impact these scholarships have had on individuals' lives.
How can I adjust to campus life in Hungary as an international student? Gain insider insights into navigating campus life, ensuring a smooth and enriching experience during your academic tenure.
Related Articles: